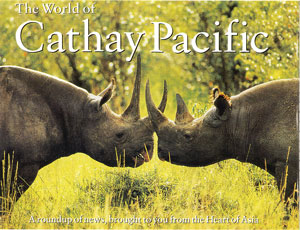 CATHAY PACIFIC AND OMNI COMPUTERS FLY TO THE RESCUE OF THE BLACK RHINO

In 1970 there were over 20,000 BLACK RHINOS in Kenya: today there are just over four hundred. The entire world population of this highly endangered animal is less than 2,500. The same number of people could easily be seated in seven Boeing 747 jumbo jets, a comparison which is not missed by Cathay Pacific First Officer Paul McIntosh, who flies some 10,000 passengers each month for the airline.
McIntosh is the Asia—Pacific coordinator for the Lewa Wild life Conservancy (LWC), a Kenya-based nonprofit organization which aggressively supports the effort to avert the extinction of these giant creatures. The interest of one of Cathay Pacific's passengers has recently let to an encouraging development — corporate sponsorship for the next rhino calf born at the conservancy.
Jerry Chamales, CEO of Omni Computer Products, was flying home to Los Angeles aboard a Cathay Pacific Boeing 747, when he read an article in Discovery about McIntosh's efforts to save the rhino. "I was deeply moved by what I read," says Chamales, "but also excited because I could see there was a unique opportunity for Omni to help save the rhino and develop our own business. Omni had already created the Rhinotek brand, and I was looking for a partner to share a portion of our profits with."
Omni's new brand of computer products are heavy -duty, recyclable toner cartridges and the rhino has been chosen to symbolize ruggedness, strength and long life. Discussions with McIntosh led to a sponsorship deal and a joint promotional slogan: "Save the Rhino." "This very generous support has enabled us to make great strides towards our goal of becoming financially independent within five years," says McIntosh.
The conservancy's annual running costs are US$400,000, and in 1996 over 58 percent of this total was donor funded. The major cost is security: over 100 men are employed to protect the preserve's 22,260 hectares from the threat of poaching.