Erasing The Ink Cartel
By Christian Sylt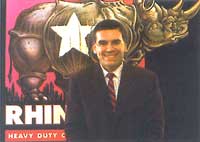 IT companies bank on the healthy profit margins from printer cartridges to boost their bottom lines. However an EU ruling at the end of last year makes this cash cow much harder to milk. Without the huge overheads of a company like HP and unprofitable divisions to support, Rhinotek can tolerate a lower profit margin than its colossal competitors...

AS TECHNOLOGY spending has tumbled, the IT Industry has suffered the most severe decline in its history. But the biggest IT companies have had a little-known safety net to buoy their bottom line. Surprisingly, the majors have a rainy-day cash cow in the form of humble printer cartridges. And a plethora of patents and tough-to-copy chips has prevented third party remanufactures (so-called because their products combine new and used components) from manufacturing cheaper cartridges and eating into the tech titan's market share. This cozy cartel hasn't escaped the wrath of the European Parliament, however.
In December last year, the parliament voted unanimously to ban printer companies from forcing consumers to buy manufacturers' own-brand refills. This provision was included in a last minute amendment to the WEEE directive, a European Union bill requiring manufacturers of electronic goods to pay for recycling them. The IT companies can appeal the bill, which comes into effect in 2006, but the move couldn't come at a worse time for them.
According to consulting company CAP, HP dominates the 11 billion West European printer ink industry with a 44 per cent market share - During the past three ears HP's market share has fallen by 75 percent and whilst ink and toner cartridges bring in 10 billion globally each year - 15 per cent of the company's revenue - massive mark-ups on these products provide even bigger profits. The printer and imaging unit accounts for over 40 per cent of HP's profits, mostly coming from the sale of printer ink.
As the IT industry has been badly hurt over the last five years, printer prices have tumbled. However, the cost of cartridges has edged up as companies have capitalized on the fact that customers can't do without ink once they've bought a printer. Whereas colour printers now cost around $100, replacement cartridges typically sell for up to half this price.
Re-manufacturers in the US have banded together in recent years to file law suits alleging that HP and other printer makers have violated antitrust laws by using technological nuances to thwart discount competition. The handful of suits, filed mostly in state courts, are either pending or have been settled confidentially, both sides say. HP stresses that no suit has been resolved with a finding that it violated any antitrust law and the company claims it is 'in full compliance with antitrust and competition laws'.
Nonetheless, protecting the lucrative cartridges from discount knock-offs is still a top priority for HP - its 4100 laser printer, launched in March 2001, is HP's biggest income generator. The machine costs $1,850 but its cartridge sells for a staggering $120. The cartridge was also the first to include a so called smart chip, which triggers messages to users about toner level. The chip also happened to have another benefit for HP in that it made the cartridge difficult to clone. But even this couldn't stop the remanufactures.
By tapping a network of moles from sources such as retail dealers and outside contractors working in IT companies, remanufacturers are armed with advance information about pending products. In 1999, unknown to HP, news that the smart chip equipped 4100 cartridge was in development leaked from the company to Rhinotek Computer Products, a small remanufacturer in California.
Rhinotek releases a new line of cartridges for HP printers at the rate of one a month and it develops a new cartridge from scratch in just three to four months. Of the company's 74 cartridge products, 60 are designed to work with HP printers and, crucially, its best-seller is the cartridge which fits into the HP 4000 - the printer replaced by the 4100.
In August 2002, to the chagrin of the printer powerhouses. Rhinotek released its cartridge for the 4100. Without the huge overheads of a company like HP and unprofitable divisions to support, Rhinotek can tolerate a lower profit margin than its colossal competitors and by using less expensive components, Rhinotek sells its 4100 cartridge for about $90, undercutting HP by 25 per cent - and shattering its monopoly.
The ruling from the European Parliament should give the remanufacturers the level playing field they want in Europe, hut despite this, they face another ongoing battle. Rhinotek and other printer manufacturers must convince the public that their products are in no way interior to the printer manufacturers' own brands and, ironically, the discrepancy in price isn't always an advantage as some customers still confuse cheaper cost with lower quality. Even so, although it may he tough to change customer preconceptions, the writing is on the wall for the printer companies.